Vegas 2020. Easily one of the nation's most dynamic cities, Las Vegas is America's tourist destination.
In my opinion, Las Vegas more diverse attractions than any single place on Earth. With so much going on you might wonder how the city of lights keeps turning it up another level. Vegas in 2020 is going to be another historical year for this gaming and leisure mecca.
Some of the biggest things coming to Vegas this year include new concept restaurants that pay homage to the city's past. There will be new developments downtown. There are even major upgrades to old features debuting this year. They promise to transform these older sites into must-see features. With a range of new hotels, casinos, and attractions opening to the arrival of the Raiders and their massive new stadium,
Las Vegas will never be the same after 2020! In this article, we'll go over some of our favorites and what we think you should be paying attention to in this amazing city over the year.
Las Vegas Raiders Allegiant Stadium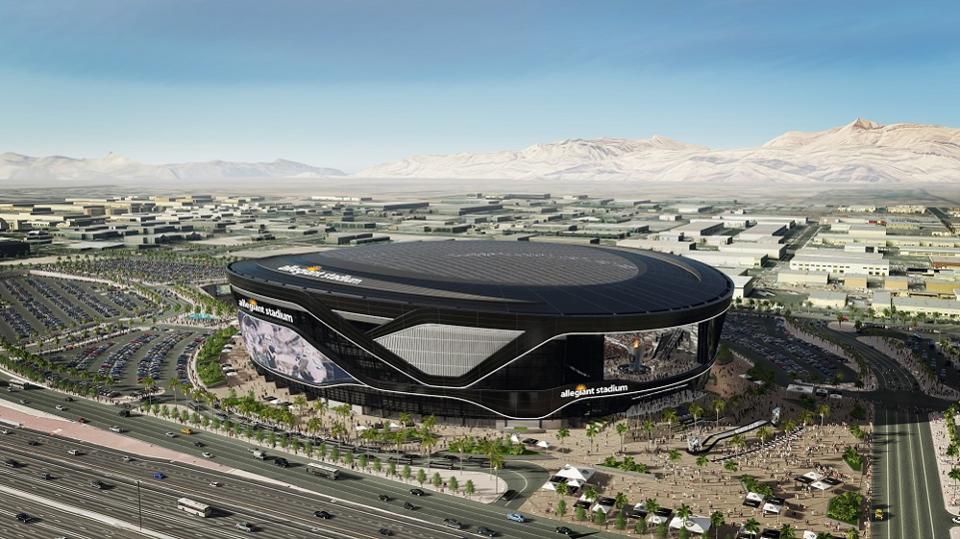 Probably the most exciting thing coming to Vegas in 2020 is the Las Vegas Raiders, the newest football team in the NFL and their huge new field, Allegiant Stadium. As the entertainment capital of the world, it is only natural that Las Vegas has a huge football franchise in its very heart and 2020 is the year this long held dream finally comes true.
With a stadium located directly behind the Mandalay Bay, the inaugural season for the Las Vegas Raiders is expected to really change the atmosphere of that area come this fall's NFL football.
Part of a major effort to make Las Vegas a travel destination for sports viewing as well as gaming and leisure, the hope is that travellers "adopt" the Raiders as their own and the city of Vegas benefits as a result from synergistic travel opportunities that can be made catering to football fans.
Beyond the Raiders, however, the massive domed stadium will also serve as the UNLV's field as well as hosting the 2020 and 2021 Pac-12 Championship Games.
But the Raiders aren't the only big thing coming to Vegas in 2020. While construction never seems to stop in the city that never seems to sleep, it might surprise you to learn that the first all-new hotel and casino in 40 years is opening in downtown Las Vegas.
Related: NFL 2020 Draft: http://www.lovelas.vegas/las-vegas-nfl-draft/
The Circa Las Vegas Casino Hotel
The Circa Las Vegas Casino Hotel will not only be the tallest tower north of the strip, but also it will have the "best pool" and "best sportsbook" in the history of America according to developer Derek Stevens.
A modern glass tower with an absolutely gigantic 4,000 person rooftop pool deck, the Circa is easily the biggest thing to happen to downtown in a long time.
Downtown will also receive a major update to its Fremont Street pedestrian thoroughfare. A $32 million renovation of the Viva Vision light canopy that blankets the area results in a display that is seven times brighter and with four times greater resolution over the older version.
Powered by 50 million LED bulbs working in concert with one another, this artistic display of light and imagery promises to keep this area a must-see location in 2020 and beyond.
Convention Center Expansion
Another massive development that will be completed in 2020 is the Convention Center expansion which not only adds more space to this part of town but radically reimagines it in new and creative ways.
Don't get us wrong, the $935 million, 1.4 million square feet expansion is the showstopper here, but the upgrades to technology that the other spaces will receive are big benefits as well. This will include a grand plaza, an atrium, and even a $52 million transit project helmed by Elon Musk's Boring Company to provide transit underneath the convention space. This will be via two tunnels, each a mile long, that will have people movers taking people from one end of the area to the other.
Area 15
One unique space that is opening in 2020 is the hard-to-describe Area 15, an entertainment complex brought to the Vegas area by Santa Fe, New Mexico art and performance group Meow Wolf.
There's going to be food, art, shopping, performance, and an eclectic mix of experiences that promises to be one of the more dizzying in Las Vegas' already varied mix of things to do. There will be a restaurant from famed chef Todd English as well as other food and beverage options provided by the legendary Hakkasan Group.
Other restaurant options coming to the Las Vegas area in 2020 include Wynn Las Vegas' high-end Mexican concept, Elio's. This restaurant opens in March. It is brought to you by the ATM Group. This is the group behind Pujol in Mexico City and New York City gems Cosme and Atla. The restaurant is promising authentic cuisine with a menu centered on seasonality. The bar will be stocked with the finest spirits.
MGM The Mayfair Supper Club
Meanwhile, rival MGM is debuting its The Mayfair Supper Club concept which focuses on a modern interpretation of the Vegas classic standard dinner and show, Forbes reports. The theme here is to take old school conventions and give it a modern twist, combining the high-dining styles of world capitals with a Las Vegas flare.
Flamingo Bugsy & Meyer
Caesar's Flamingo will get the uniquely-named Bugsy & Meyer's Steakhouse which replaces the old Center Cut restaurant. Bugsy & Meyer's Steakhouse hopes to evoke some of the spirit of old Vegas in its setup, including full-on kit for waiters and staff, while also hosting a menu filled with traditional favorites.
Vegas 2020 Shows
Major acts coming to Vegas in 2020 include country star Shania Twain as well as rock legends The Who. Twain, for her part, will begin a residency at the Zappos Theater with her "Lets' Go!" show while ZZ Top will be helming a five-show gig at the Venetian.
As we noted in the introduction, the one thing that is constant about Las Vegas is change. 2020 will be filled with it. Even so, you can expect standards and classics to make minor updates throughout the city. The transition to a broad-based travel hub becomes more pronounced over the next decade.
Please follow and like us: