A train to Las Vegas sure beats the bus from LA! According to company Virgin Trains,a high-speed train from Las Vegas to the Los Angeles area could be ready for passengers in 2023.
The company estimates that approximately 12 million people could travel on the high speed train between Las Vegas and Los Angeles.
Virgin Trains announced it will begin construction in the beginning of 2020 on the 180-mile stretch from Victorville, California to Las Vegas.
The trip would take between 75 to 90 minutes one direction. The cost to passengers would be $60 for each way.
Virgin Trains said it planned to spend $4 billion of private money on this initiative. Virgin Trains did not obtain partial tax abatements during 2019 Legislative session. However, it will try to obtain the tax abatements during the 2021 session, O'Malley said.
Issuing the tax exempt bonds would make sense for the region, Reynolds said, given that 19 percent of Las Vegas' annual visitors come from Southern California, according to the Las Vegas Convention and Visitors Authority.
"If you travel the I-15 through that area, you realize it gets jammed up pretty bad," he said. "This is a way to relieve some of that."
The Las Vegas to Los Angeles train idea was first introduced to the public in 2004 under Express West. This consisted of a private group of investors. Federal transportation officials later approved the corridor, even though the project never became a reality.
Los Angeles to Las Vegas train
Express West and the project was purchased by Virgin Trains USA in April 2019.
Company officials said Virgin Trains will keep building the rail. It will create more stops closer into the Los Angeles area. The high speed train to Las Vegas would take years of research and additional federal approval.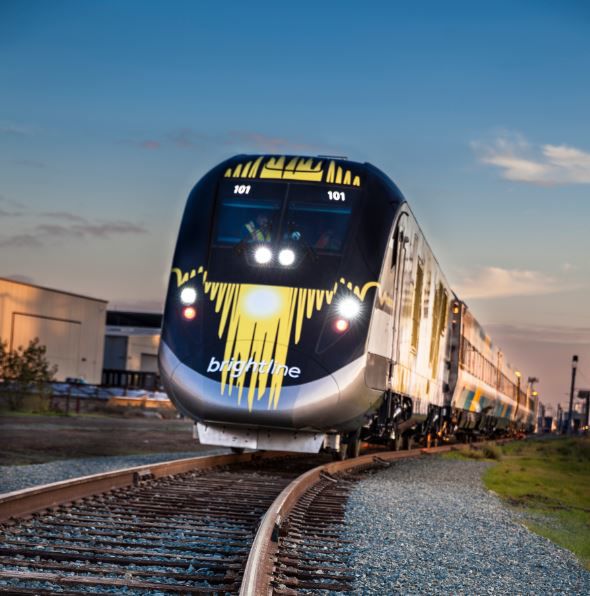 "It talks a lot about the confidence that the leadership of the company has in the Las Vegas destination," said Commissioner James Gibson of Clark County.Virgin Trains officials informed county authorities months ago of the swift plans to initiate construction.
"Between 30 and 35 percent of the visitors that come to Clark County drive here. Alternatives that get people here– and another 12 million seats– that can't be bad," Gibson said, noting the influx of more tourists with the Raiders' fall 2020 arrival and thousands of new hotel rooms under construction.
"This project would be a win-win for Nevada and California," said Fiona Ma, California treasurer who sits on the board. "It would allow people to move rapidly between Southern California and Las Vegas."
Where will the Stop for high Speed Train be in Las Vegas?
The Las Vegas train stop, will be named the Harmon Station. It will be located near the Rio Hotel, Reynolds said. Las Vegas officials want to connect Virgin Rail passengers to the city by adding a rail connection to-and-from the proposed station to Downtown Las Vegas.
Will you consider using this high speed Vegas train? Before we know it, it will be another exciting adventure involving Las Vegas
Please follow and like us: