Things to Do in Vegas Besides Gambling Hollywood has always portrayed Las Vegas only for its gambling industry. But did you know that the city is also full of other fun and meaningful activities for tourist apart from gambling?
Like what?
Watch a show
Drive a fast car
Visit the Grand Canyon
Indoor sky diving
Exciting, isn't it? Let us get started!
Watch a Vegas show
Shows in Las Vegas change. What this means is that one show may be available for two months, and then you would never see that show again.
The thing is, Las Vegas shows are intricate and you will almost never find them anywhere else. You can watch a play or a musical. You can watch a comedy show, concert, circus, acrobatics, and even magic trick performances from some of the most acclaimed performers.
Ticket prices vary, so choose one that is within your budget. Before you even travel to Las Vegas, you need to find out what shows are available, and then book them accordingly.
Drive a fast car
There are two ways you can do this: you can rent a fast car or drive one of the cars in NASCAR. If you want fast cars, you can visit an exotic racing facility where you can be behind the wheels of a Ferrari, Aston Martin, Lamborghini, and other exotic cars. The average price is $299 for five laps.


For a NASCAR experience, you can go to the Richard Petty Driving Experience. Here, you will be racing against other tourists like yourself on the Las Vegas Speedway.
You can drive a NASCAR for $199 for five minutes, or up to $1,919 for 48 minutes. If you want, you can ride along with a professional driver for only $99 for three laps.
Visit the Grand Canyon
The Grand Canyon is one of the biggest natural structures on earth formed over millions of years. It spans 277 miles long, one mile deep, and 18 miles wide.
The Grand Canyon can be toured via a helicopter, or you can go there by car and enjoy some rides like bike rides. You can also visit lakes and basins here. You can either visit the south side that is four hours away, or the west side which is three hours away.
The Grand Canyon is a wonder of nature, and it is best visited by those who want to see something breathtaking. You should definitely visit this [place as you will never get another chance.
Las Vegas Indoor sky diving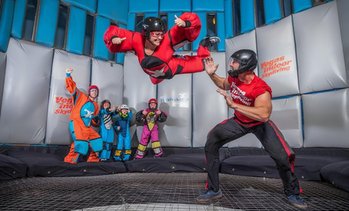 If you are scared of jumping out of a plane, you can still get the same experience and sensation in an indoor diving range. Here, you will be flying in mid-air, pushed by powerful fans and vents below you.
An indoor diving range is made for practice sessions for professional sky divers. This is how they practice how to maneuver while suspended in the air, and this is also the place where they practice their "dance moves" during sky diving performances or shows.
related: things NOT to do in Las Vegas
Things to do in Vegas besides gambling Summary
Las Vegas is not just about gambling. While you should not miss out the gambling experience here, you must set aside money to go visit other places. For the shows alone, there is a ton of options so you will never get bored.
You can even visit the Atomic Testing Museum where you can learn more about how scientists make atomic bombs, how powerful they are, and even touch real bomb casings.
As a last piece of advice, make sure you book your tickets online before you visit to ensure you have a seat, and that you visit the areas during the appropriate season.
Please follow and like us: