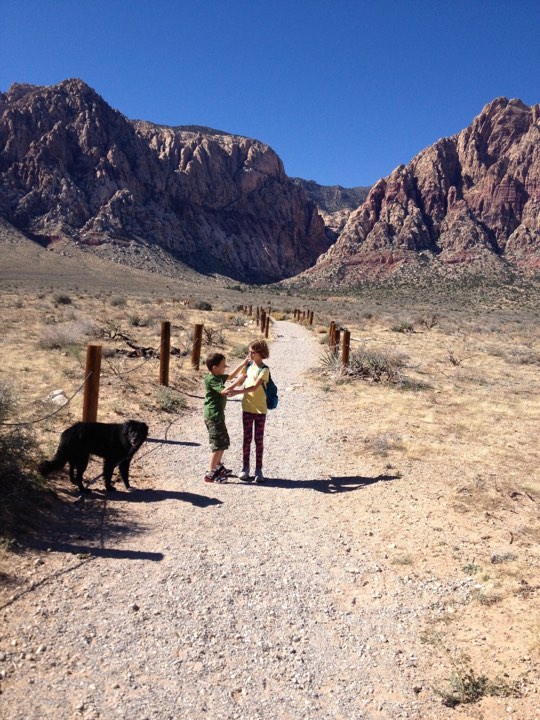 To receive updates on Las Vegas with kids subscribe here.
Are there things to do in Las Vegas with kids? There is a myth that Las Vegas is only for big kids. (adults). Its been dubbed Disney for adults. Yes in many ways it is! BUT Las Vegas with kids can be enjoyed by the entire family. (if that's what you want) For those who don't think Vegas is for kids, sorry but many kids live here. There are plenty of places to frequent that will NOT allow anyone under 21 years old. Yes they are strict as they should be!
How do I know that Las Vegas with kids can work ? My teenage children have lived here their entire lives. We live in Henderson just outside Las Vegas. There are countless things to do whether its a show, a nice meal, a walk through the hotels, a hike at Red Rock,pool etc.
These are real life suggestions from our Facebook Group Love Las Vegas. We have experienced all of the suggestions. So enjoy. Do try a few of the Vegas family activities. Let us know about them.
Somone says: Las Vegas is catered to 21 and over. Not much to do for the 20 & younger. Your better off going to Disneyland or amusements parks in USA or maybe vacation in Hawaii.
Totally disagree…there is Hoover Dam, Grand Canyon, Red Rock Canyon, M&M's Store, Coca Cola Store, Madam Tussauds wax museum… all kinds of things on and off the strip!! Barbara
Their parents can decide what the kids can see…besides, there are tons and tons of things for kids to do!!!
Springs Preserve is nice to go and look around with kids. There is Town Square – shopping with a kids area in the centre. Neon Museum. Or my 2 enjoyed just looking in all the hotels as all the themes are different. There is the Avengers station if your children like superheroes but look for an offer on tickets. Katie
Take a Day Trip to The Grand Canyon?It is Breath Taking….Walking on The Strip Down by Excalibur Towards Treasure Island there is Lots to do New York New York?Have Fun Enjoy!! Jackie
A day trip to the Grand Canyon is a memorable must ?
Also, we love visiting Downtown Container Park: lots of shops and great eats to choose from, plus a giant playscape for the younger ones in your family. Ashley

I've been taking my kids since 2001 and have never been denied entrance anywhere. Unless you're talking a bar, night or stripclub? LOL we didn't try those.
They can walk the casino floors too (with family) they just can't stop to play. Except my 15 year old son, at the time, stopped and played in The Orleans. He played quite a while before they noticed. Even then security just ask him to move along. Shannon
Go to Hoover Dam. Stay at New York New York where they have amusement rides. There's the Coke cola store m & m store. Watch the fountains at the Bellagio. Container park is a cool place for families by Fremont street. There's lots of things. Google places for families. Lots of places to shop and eat. Lisa
There is Circus Circus. You can always find things for kids. Good luck and have fun! Catherine
Pinball museum off strip. Flamingos at Flamingo Hotel, Mini golf Rio Linda
The Hoover dam trip is worth it once. Make sure you diversify what you eat, tons of delicious food at all price levels. I love in and out burger in the Linq promenade! People watch, walk the strip at night for sensory overload. The Bellagio Fountains are spectacular, there's an amusement park inside Circus Circus. Lion habitat at Mirage, shark aquarium at Mandalay Bay. Beautiful shops to walk through. Tons for the whole family to do. Have fun! Jeffrey
Valley of Fire. Trae
South rim Grand Canyon is a good day trip driving. Matthew
Grand Canyon, Red Rock, Valley of Fire and Hoover Dam. The Mob Museum downtown is cool too. They have a few different "levels" of experiences you can do. The resorts themselves are attractions as well. Adam
I took my 3 from the Uk out for my vow renewal in 2017. Ages 21, 10 and 4….all had an absolute amazing time and loved every second! I've always said I'd never take my kids but after that I wouldn't hesitate in doing it again! We went out for a week and were busy every day!…Eiffel tower, stratosphere, Siegfried and Roy's Secret Garden at the Mirage, Shark Reef at Mandalay Bay, Titanic Exhibition at the Luxor, Grand Canyon in a helicopter, Freemont Street and the Zoomline/Zipline, Volcano at the Mirage at night, Bellagio fountains….kids were knackered by 9pm so we chilled out at the hotel. There's plenty for kids if you look for it depending on ages. If its your dream, go for it…I'm sure you'll have a great time. People have their own opinions and this is just mine xx Sarah
The teenagers might like the Luxor (you pay and you can play video games all day)

Aquarium at Mandalay bay

"Kiss" mini golf (the band)

All the zip lines and roller coasters from NYNY to strat. Gary
Def grand canyon there is Hoover damn and lake mead plus red rock canyon. Circus circus has free shows for kids there is the park there. The Mandalay Bay reef. If u stay at Excalibur there are 3 pools and hot tubs not sure when u are going. There is Pinball Hall of Fame and most casinos has arcades for kids the flamingos has a free habitat place inside with flamingos and fish. The High Roller Ferris wheel also there are places that have kiss mini golf big bowling alleys laser tag. Lots for kids to do Melinda
Tips for Las Vegas with kids
Take a look at the local ordinances regarding curfews.etc
Go to CVS or Walgreens there to get snacks water etc to have in your room it will save you lots of money on eating out narrow it down to eating out once a day. Most hotels u can get a fridge brought to your room if they don't have one already but it will cost ya but still will save money. Buy all souvenirs on Fremont street much cheaper that on the strip. And take Uber or Lyft no taxis u can also get a bus pass that will take u up and down the strip and to Fremont much cheaper than taxi rides
We just came home from a trip that involved our teenagers. We were busy all of the time. Don't listen to people saying there is nothing for them to do. We would start the day with some pool time. We did the rides at Circus Circus, the rides at the Strat, Bellagio fountains, New York, New York, Coke site, M&M store. Volcano at the Mirage, Hoover Dam, and best day ever, Cowabunga Water Park. We also took them to Fremont Street and Container Park to see the Praying Mantis. Kids were exhausted every night! Then we could go downstairs for adult time Kim
Circus circus. Stratosphere, New York New York. I live here and have 14 year old and have blast. Do the void at the Venetian. There is a big go cart place just at end of strip. Park and watch the planes land. It's super cool. Or just walk Town Square and they fly right over head. Off strip glow zone is super cool. The Station Casinos off strip have kids quests inside where the younger kids can play supervised and then teens can do bowling movies and arcade while adults gamble. Go to Fremont and take them to Golden Nugget and do the water slide through the shark tank. They have walking dead attraction. Zip line Fremont street. I can keep going lol. I love this town. Tasha, Local Las Vegas resident & parent
You can find lots of kid stuff to do, much of which has already been listed. My only advice would be to pick your hotel based on the pool. Kids love the pool, and it's something they can do multiple times, but some pools are more kid friendly than others. For example, NYNY pool is tiny and crowded. But Excalibur and Mandalay Bay both have huge pools with great kid friendly amenities (although Mandalay Bay wave pool is probably tops). I've heard MGM Grand is good for this purpose too. Chris
Hoover Dam, Horseback riding at Red Rock. Stratosphere rides and ziplines at Linq and Fremont Street are a couple ideas. John
This summer we took our 3 kids, 14, 10 and 6. They were trying to plan their next trip before we even left. They had so much fun! We stayed busy the entire time. Container park, Shark reef at Mandalay Bay, the avengers station at treasure island, wax museum, dolphin habitat, all the arcades, circus circus. The only reason I say they won't go again until they're 21 is because I go to Vegas for me, but I knew they'd love it and they wanted to see it. It was exhausting keeping track of them with all the people, but definitely worth it! Have fun! Laura
There's lots to do for everyone. I think most have been mentioned. But, in addition to your 5 kids, bring LOTS of money. I mean LOTS! Rich
Mermaid show at the Silverton is free. Miguel
Nevermind the naysayers! My kids loved Vegas!
Everytime anyone asks about kid activities in Vegas I post this: https://lionhabitatranch.org/
Mostly because I want to go. Enjoy your trip! Stacy
Depending on how long you are there I would say do a few trips. There are some great places to see. You will all love the themed hotels like Paris, the Venetian and Caesar Palace. Then there are the Bellagio fountains – plenty of shops to interest young people. Remember to bring lots of money and comfortable shoes. Jill
A nice afternoon and picnic at Red Rock Holly
Ice skating at the Park Mgm should be up. (for December) Marcey
M and M World all kinds of stuff some stuff is candy and stuff isn't I been there before and there is cocoa cola store next it . There a wall there that with hand prints on it . U guys buy clothes and a ruler and other souvenirs Wendi
Las Vegas shows for kids
Ask your concierge about the afternoon shows as they are family friendly. Usually the V Theatre has good stuff. But the afternoon shows are the best. Rebecca
Mac King Comedy Magic show at Harrah's. It's an afternoon family friendly show and is fantastic! He even has kids come up on stage to be part of the show. Vaughn
Fremont Street light shows from 7:00pm- 1:00am Oly
Any Cirque du soleil show except Zumanity Oly
"Vegas Indoor Skydiving" Oly
Big Apple Coaster at NY casino Oly
Magic shows, Shark Reef, Jabbawockeez, ice rink at the Cosmopolitan, Secret Garden at the Mirage, Infinity room at the Bellagio. Arelly
An arcade and rollercoaster at NYNY, Wet & Wild Water Park, MJ One Show, Bowling, Mini Golfing, The Avengers Exhibit, The Secret Garden, Shark Reef, and Zip Lining. There is so, so, so much to do!! We have been vacationing for 23 years, at least 5 times a year and have never traveled without our son who is 18 years old now. Your kids will have a blast! Grace
Mob Museum. And at Mirage or Treasure Island they have a Marvel interactive exhibit. At MGM they have s CSI experience and the classic also at Mirage the white tigers Jackie
Cheap things to do in Las Vegas
Yes many of these things to do are free or cheap. 🙂 We know travelling with a family is expensive as it is. No need to break the bank with expensive meals and shows, unless you want to!
State line .. carnival games and a rollercoaster. Steve
Floyd Lamb Park. Bob
Pawn Stars. Kari
Wax museum or Shelby Mustang Museum, Ang
Go hiking at Red Rocks Canyon is so beautiful if you don't hike go for the drive. Ana
Some of the casinos I believe had bowling and check out what the Mirage has to do for kids Kari
Ethel M Chocolates Factory Cactus Gardens. Christie. Jeff
Rent a vehicle and go to RED ROCK CANYON. It's beautiful and there's plenty of places to stop and walk the trails. Or even, climb some rocks if the kids like that kind of thing. Bob G.
The Grand Canyon it's a good drive but a must see. Vegas has a pinball hall of fame and the Strat has rides up top there is a big bowling alley but can't remember where it is. The high roller and they have the MGM Park at the Flamingo there is a free habitat inside. the Bellagio fountains and the mirage fire show are both neat to see. Circus Circus has free shows and also a place with rides there is also the Hoover Dam Red Rock Lake Mead and all kind of neat things to do or take a helicopter ride at night over the strip I did that it was fun look on Groupon for discounts Melinda L.
Grand Canyon
Neon Rock
Cris Angel
Circus Circus?
Neon Sign Museum
Indoor Skydiving place. Wendy
Madame Tussaud's Wax Museum Gigi
Excalibur has an arcade and their own version of Medieval times. Trae
Avengers Station recommended by many, including Jeff and Jon.
We just took a 17 and 18 year old and they had a blast. Wax museum for sure (at Venetian), they road the gondolas there as well. They loved the arcade and roller coaster at New York New York. We also did Red Rock and Hoover Dam for the day. They did the Shark/Aquarium at Mandalay Bay and the Titanic Exhibit right next door at Luxor. We also took them to Linq and they did the High Roller and loved the shopping. Let me know if you have any questions. I seemed to find good deals online prior to going to stuff. Shannon
Container Park Downtown! Beck
Fountains at Bellagio, Bellagio Conservatory, there is a carnival like game area at Excalibur, the Shark reef at Mandalay, KA at MGM is a great show. John F.
As you can see from this list, your child/children will have plenty to do while in Las Vegas. There is a multitude of things to do in Las Vegas with kids. We will be updating this post in a regular basis, so please subscribe here for the updates.
Please follow and like us: