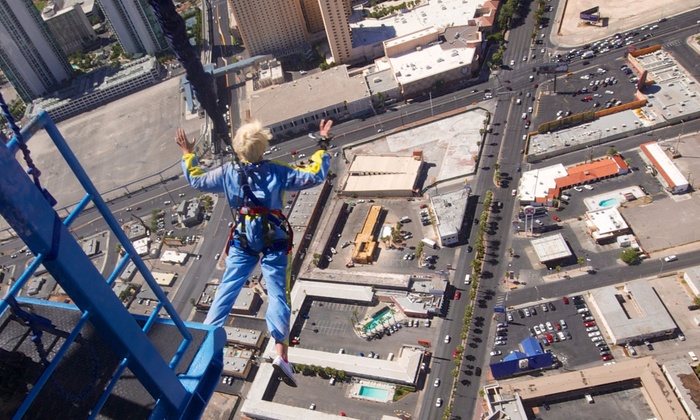 Stratosphere Jump is a thrill of a lifetime. Free fall never to be forgotten Vegas adventure! SkyJump won the Worldwide Attractions Award 2016 for the Best Attraction for Adrenaline Junkies.
Is this heartpounding open-air leap from 855 feet above the neon Strip for you?
https://www.groupon.com/deals/stratosphere-gaming-llc-2
Skyjump has Guinness World Record as the highest commercial decelerator descent facility.
You'll zoom toward the landing pad at speeds topping 40 mph while the crowds below gasp and applaud your bravado. ">Stratosphere Jump is not the only option for thrills at The STRAT. Read on for other thrill packages.
Stratosphere Jump and Thrill packages
Are you excited to experience the thrill of rising 1,149 feet into the Vegas skyline? If you answered yes then the Stratosphere has awesome choices for you.
It is the tallest freestanding observation tower with 360-degree view west of the Mississippi in the USA and gives you the Highest Thrill Rides. For its Highest Controlled Descent, the stratosphere Las Vegas skyJump attraction holds the Guinness World Record and one of the most thrilling ride in Las Vegas.
Three awesome choices of Stratosphere rides prices Package to feel the thrill:
VIP Sky Jump rides Package for One Includes:
-One SkyJump Plus personal "wristcam" video of the event and digital photos with USB stick
-SkyPod Admission for One
-One 2-for-1 Thrill Ride Pass (choice of Big shot, Insanity, X-Scream, $15 value)
-One beverage Pass ($7 value)
https://www.groupon.com/deals/stratosphere-gaming-llc-2

Thrill Ride with Beverage Package for One Includes:
-One Thrill Ride pass (choice of Big shot, Insanity, X-Scream)
-SkyPod Admission for One
-One Beverage Pass at 108 Drinks ($7 value)


Unlimited Ride Wristband Package for One Includes:
-Unlimited ride pass to Big Shot, Insanity, and X-Scream
–SkyPod Admission for One
https://www.groupon.com/deals/stratosphere-gaming-llc-2
About Stratosphere Casino & Hotel with thrill rides:
In USA the Stratosphere Casino, Hotel & Tower is the tallest multiple standing observation tower (1,149 feet high). Its provides you unparalleled—360-degree views of Sin City from SkyPod indoor and outdoor observation deck—That amazing experience explains why readers of the Las Vegas Review-Journal mentioned it the Best Place to View the Sin City in 2010–14.
The SkyPod outdoor observation deck provides you one of the most extreme thrill rides in the world. From 854 feet at the SkyJump, you can go jump to feel the thrill. At speeds of up to 3 Gs, experience the ride of a tilt-a-whirl, and plummet on a free fall ride, all at 1,081 feet high from the ground. After that, grab a bite to eat at the Top of the World restaurant or enjoy custom crafted cocktails at the highest bar in Las Vegas.
Stratosphere Jump & Thrill Reviews
Novia says,
"The staff was amazing. I did the tower sky jump and they were all full of laughter and just amazing. Our group had a blast and the staff made it even better!"
Nancy says,
"Having the pass to be able to get on all the rides was such a great idea. Especially, since it was an unlimited amount of times that we could get on the rides. My favorite was definitely Big Shot! The staff was super nice as well."
Jackie says,
"Well worth a visit. We went at about 7/8pm so we saw the sunset then went on the rides when it was all lit up. Unforgettable…and it was quiet at that time too!"
Stratosphere rides hours
10am-1am | Sunday-Thursday
10am-2am | Friday-Saturday
Stratosphere Groupon
If you want to stay at The Strat for less visit this link for a discount. You just might be able to snag a $22 per night rate. (Plus tax and resort fees.)
If you are in Las Vegas on a "girls" weekend or for a bachelor party, this may be an awesome choice for a Vegas adventure.
Please follow and like us: