Subscribe here for more Las Vegas tips and updates.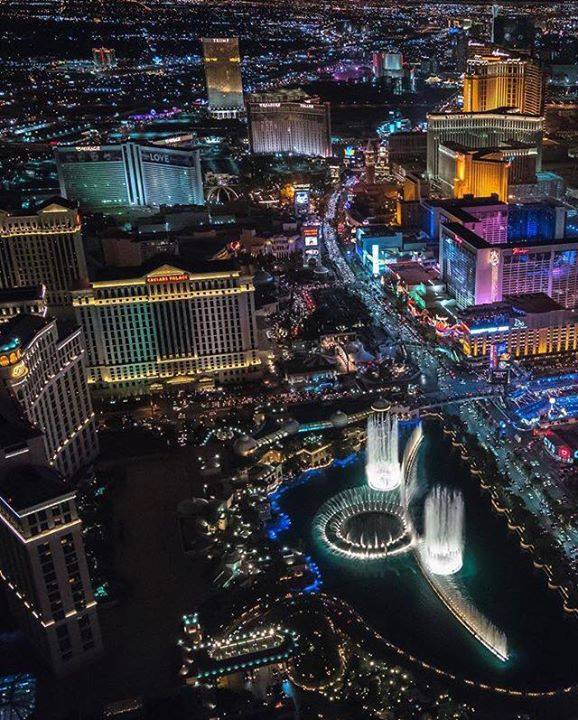 Maverick Helicopters Las Vegas was founded in 1995. Their mission is provide the top service in the air, as well as on ground. Maverick Helicopters operates one of largest and state-of-the-art fleet of 47 ECO-Star helicopters in the world. Maverick Helicopters has expanded to include six bases of operation: Las Vegas Strip (McCarran International Airport), Henderson Executive Airport, Grand Canyon South Rim, Grand Canyon West Rim, Maui and Kauai, Hawaii.
There's No Better Way to See the Neon. Maverick Helicopters
A helicopter ride Las Vegas viewing The Strip one of the coolest ways for you to enjoy this city. Maverick Helicopters offers both day time and night time helicopter experiences. Maverick Helicopters' pilots greet every passenger. A flight orientation is given before boarding. Each flight is interactive as possible between the pilot and the guests.
Maverick did receive best 10 award Reader's Choice awards.
Using voice-activated headsets, passengers receive a personal narration (in English) by the pilot, or a pre-recorded narration in their native language. Maverick was founded on the principle of providing the best experience possible. But the best part is that you have vetted helicopter pilots and the experience is very safe all the time. That helps a lot, it gives more control and the process itself is among some of the best!
The best way to fly over Las Vegas

Whether you want to see the Bellagio during the day or the Luxor at night, Maverick Helicopters Las Vegas will help. The company has been around for many years and they are widely known for offering some of the top quality tours that you can find on the market. It helps a lot, and it offers you the value and professionalism you want at all times.
The company is very popular. it also has all kinds of tours in Hawaii as well. And they always strive to give you these unique experiences while also making them as affordable as possible. It's something staggering, unique and extremely enjoyable no matter the situation.
Maverick Helicopter tours Grand Canyon
Reaching the Grand Canyon and exploring it might be hard. But with the Maverick Helicopter Grand Canyon tours you can easily do that. The company does an amazing job. in regards to offering immediate access to great helicopter experiences that you can rely on. These are great.enjoyable and you also have the opportunity to customize them as you see fit.
Maverick Helicopter tours Grand Canyon. It's totally an amazing opportunity and a great experience that you will like all the time. When you explore the Grand Canyon you want to have fun, you want to see lots of cool stuff and with the Maverick Helicopters Las Vegas you will enjoy this no matter the situation.
On top of that, you can book your departure online or at least get in touch. The Maverick Helicopters Las Vegas experience can also be booked for tours, weddings, groups, private charters and so on. There are all kinds of special features you can try out. Or you can go with the Maverick Helicopter Tours Grand Canyon and you will enjoy this every step of the way.
Maverick Las Vegas Reviews
Have used this Maverick Helicopters twice.
Used them in 2015 for a Grand Canyon tour then again in 2019 for The Strip by night flight.
Both were fabulous experiences.
Will definitely use them again in our next visit to Las Vegas, for another fabulous experience. Josephine Walton
Another Maverick Las Vegas Review
Excellent service, very professional and was collected on time. Pilot was really professional, there was 7 passengers and the pilot on the way out myself, husband and another couple were satin the back with another and their little girl in the front. On landing we were offered a drink of bubbles with snacks, plenty of time to take pictures of the canyon, we had one taken with the pilot and he took pictures of the two of you if asked.

He then organised the seating so he swapped everyone around so everyone got a chance to be in the front, we offered the couple with the child to take out turn but the pilot said no it's only fair everyone gets the chance as the view is spectacular. The best part apart from the views obviously is the music played through the headphones, don't get to take off from the Grand Canyon with Fantastic music playing absolutely buzzing for ages after. Carol D. Groupon
We encourage you to give the Maverick Helicopters Las Vegas a shot if you want to check out the city from above! It's something really staggering. It is one of the most amazing experiences that you will ever have.
Just consider giving it a try and enjoy the special prices as fast as possible. We guarantee you will have a lot of fun, and in the end it's just an incredible and enjoyable opportunity that you do not want to miss. After all, it comes at a special, time-limited low price offer!
The top 10 winners in the category Best Helicopter Tour are as follows:
Sundance Helicopters
Alaska Ultimate Safaris
Guidance Air
Serenity Helicopter Tours
Maverick Helicopters
Black Hills Helicopters
Seward Helicopter Tours
Alpine Air Alaska
Blackcomb Helicopters
Pacific Helicopter Tours
A panel of experts (listed below) partnered with 10Best editors to pick the initial 20 nominees, and the top 10 winners were determined by popular vote.
Congratulations to all these winning helicopter companies!
Please follow and like us: