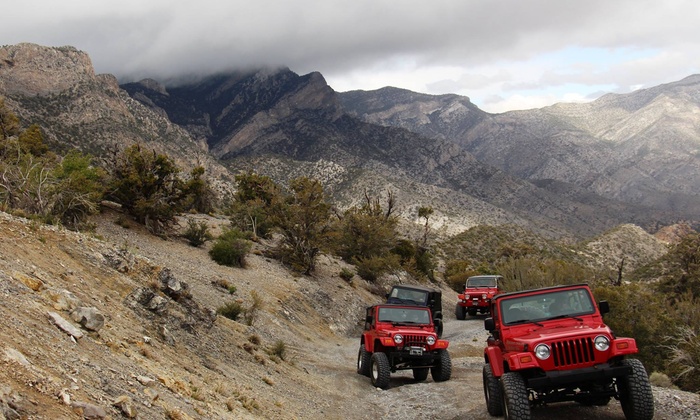 To receive Las Vegas tips and updates ==> SUBSCRIBE HERE
Las Vegas Rock Crawlers price is well worth this Vegas adventure.
The mission of Las Vegas Rock Crawlers is to enrich the life of each customer by providing an unique Vegas adventure service. With almost all 5 star reviews of those who bought this Groupon Vegas, they have achieved their mission statement.
Groupon Vegas: included in this deal
Enjoy the Red Rock Canyon loop, taking in the Awesome views and going off-road through the switchbacks of Rocky Gap Road up to a 6,500-foot peak.
Trail: Rock Gap Trail via Red Rock Canyon
Trail rating: 3
Duration: 4 to 4.5 hours
Vehicle: Fully-equipped lifted Jeep Wrangler 4x4s that have 37 to 40-inch tires
Required experience: None (guide will teach you)
After booking near the strip we will determine Pick up location
Full excitement and adventure with safety
Pick-up and drop-off from hotel are available at most locations
Las Vegas Rock Crawlers What to Wear & Bring:
Need valid driving license with 21+ age to drive.
Passenger's age must be at least 2 years.
What to wear: sturdy comfortable shoes or boots, Wear comfortable outdoor clothing (shorts and a comfortable top for summer weather and long pants, light jacket, and long sleeve shirts for winter weather)
What to bring: sunglasses, chap stick, sunscreen, hats, camera (optional)
Prohibited items: drugs, big size coolers, alcohol, Weapons of any kind, and bad manner.
Smoking is prohibited in the cars (Can smoke at any stopping of the trail outside of the vehicle).
Snacks and Bottled Water will be provided.
About LV Rock Crawlers:
https://www.groupon.com/deals/las-vegas-rock-crawlers-2-6
Las Vegas Rock Crawlers is an off road adventure company owned by top notched customer service experts. Rock Crawlers provides fully-modified Jeep Wrangler 4x4s that have 35- or 37-inch tires and front and rear lockers. The trails ranges are easy, medium and hard.
You'll be well guided through the trails and instructed on every aspect of the vehicle you will be driving. Las Vegas Rock Crawlers will take you on tours in the Valley of Fire, on the Apex/Nellis Dunes and the Amaragosa Dunes as well as El Dorado Canyon and other trails. Each destination has bypass routes for newbie drivers and Extreme obstacle-clad routes for experienced one. Every trail will be scenic and offloading. No chance to go wrong with any trail you pick.
Vegas Rock Crawlers Reviews
Incredible over 100 5 star (recent) reviews on Groupon
Reviewers reported that guides are top notch. They are a friendly customer oriented staff who went out of their way to enhance this Vegas experience. Jeeps were clean. The scenery was breath taking. "well worth the price".
Certificate of Excellence by TripAdvisor
Claire J. on TripAdvisor said AMAZING FUN "We always like to do some kind of driving experience when we go on holiday but wanted to try something we have never done before and I'm so glad I booked this tour. Nothing else like it!!! Great fun, exciting and intense at places. It's a family run business and was very helpful when booking from the UK. We had such an amazing time and next time we visit we will definitely be doing the harder tour ❤️. Thanks again guys"
Except hosting guided tours, Vegas Rock Crawlers also provide Las its Jeep rental services from their fleet. Customers can borrow our modified 4-wheel Wrangler to explore the sightseeing, From Las Vegas Hotel to the off-road trail.
Have you experienced this Las Vegas adventure? We would love to hear from you. Share some photos as well. Thanks!
Please follow and like us: