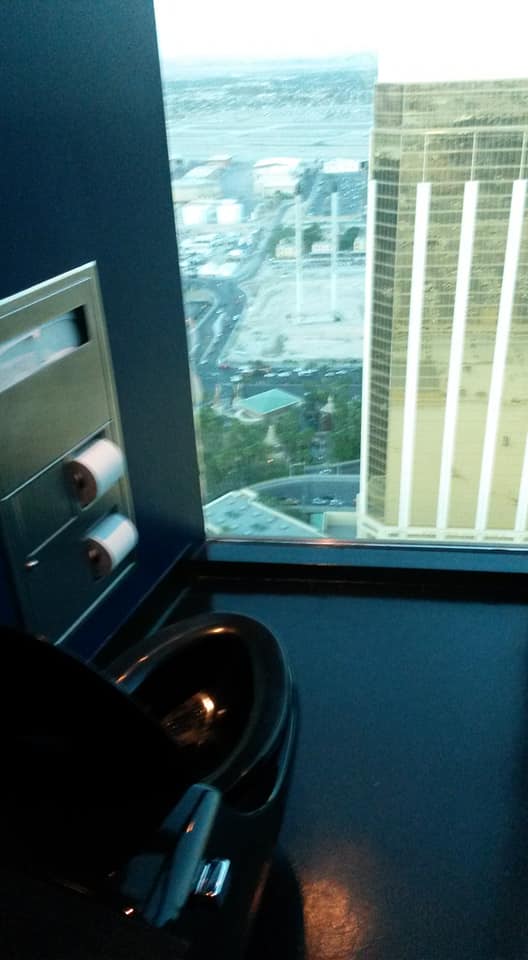 What are best bathrooms Las Vegas? Someone from our Love Las Vegas group asked that question as a joke. There were 19o answers. This proves that there aren't any ridiculous questions. Some felt the question was out of line.
Skyfall Lounge in Delano must be one of best views from a Las Vegas public bathroom. Photo above courtesy of Crystal Lee.
I totally related to this question. I am a woman and a mom, so am very particular about public bathrooms myself. They MUST be clean, And there must be NO line. As far as The Strip hotel rooms go, it feels very luxurious to have shower and tub, along with music or TV, or a wonderful view.
Toilet tips: Paris. Caesars. MGM. Treasure Island. LINQ. Look by entrance. Theresa
I don't know why everyone's crapping on this post. Ryan
Related: Things not to do in Las Vegas
Las Vegas public restrooms
Most of The Strip hotels restrooms have clean well decorated, some stunning with marble, and fancy fixtures. Its really a matter of preference. OR how madly you need to go.
My favorite is the women's restroom in Paris. I like how the stall doors are like real doors. Carina
Harrah's right outside of Starbucks. Really nice. New. Clean.
Eiffel Tower restaurant: Male attendant in mens room hands out towels
Aria stalls from the floor up. So no peaking allowed. 🙂 Aria, my daughter swear it smells like happiness!!!
Paris Hotel Liked for women's rest room has tall doors are like real doors. Men's bathrooms have ice in the urinals! They were playing French lessons over the speakers.
Main Street Station Downtown bathroom, next to the pay phones🤣, is old fashioned and pretty awesome with pieces of the Berlin wall in it. Love to a nice #2 there after 777's Brewery 🤣
Clean is all I require/request.
Best? Clean. No lines. Anywhere. Stef
Las Vegas Bathroom questions….
It just shows that there is no stupid question about Vegas. We all love everything about it right down to the smell of a casino to a favorite bathroom! lol That is the beauty of this forum. 🥰 Crystal
Some community members had some fun with their answers. The Bellagio Fountain, or the Corner of The Strip and Circus Circus! Or how about it really depends on what you need the rest room for. The Red Rooster was another suggestion. wink wink.
Any with a Bidet? Asking for a friend🤥
Gatoraid bottle and a five gallon bucket with a lid!!!🤩🧐🤫
Wherever i can hover easiest.
The one with kegs for urinals.

Be sure to stop by our Love Las Vegas Group to thank everyone for their wonderful input on toilet tips in Las Vegas. 🙂
Best bathrooms Las Vegas? Why not try them all and get back to us. Proximity and cleanliness win for most of us!
Please follow and like us: