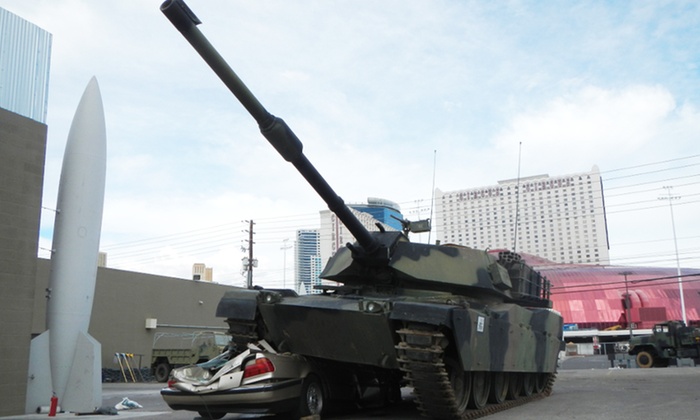 Battlefield Vegas prices are well worth this Las Vegas adventure. If you have not heard of Battlefield Las Vegas yet, we will review it here.
Battlefield LV is a 5-acre military-style compound just off the strip. It gives participants a chance to both reach out with military history and experience the largest collection of weapons available for personal use in the United States. They have highly qualified employees with combat experience. Everything from weapon selection and training is designed for an immersive experience.
https://www.groupon.com/deals/battlefield-vegas
Battlefield Vegas prices:
You Have Two Battlefield Vegas packages to Choose:
From this Battlefield Vegas package, you will get a T-shirt with Humvee transportation services. You'll also get three type rounds services with three different guns (20 rounds with a Glock 17, 25 rounds with a full-auto Uzi submachine gun, 25 rounds with a full-auto Colt Commando)
This Battlefield Vegas package Includes time with an instructor, eye and ear protection, and targets. Also provide you, Car crush with a T-55 tank. Two people can participate: one driving the tank, Other one standing in the tank-commander hatch. There is also Minigun rental with Humvee transportation services.
About Battlefield LV:
Battlefield LV is as like a living war history museum as it is an amazing shooting range and training complex. It has 5-acre military-style compound just off the Las Vegas strip. Also they provide a more than 200-acre offsite desert training facility.
Instructors guide customers in operating pistols, rifles, and shotguns, and automatic weapons. These weapons range from World War I weapons to current arms used recently by NATO forces in Iraq and Afghanistan. There is also a fleet of 25 military vehicles ranging from jeeps to helicopters such as Willys MB Jeeps driven in World War II. Additionally, there is a UH-1C "Huey" helicopter flown in Vietnam. All weapon use is led by an instructor. Experiences are organized by weapon type and country or historical place of origin.
In addition to managing the collection, Battlefield Vegas's staff also lets guests feel what it's like to handle the weaponry from more than 15 packages and scenario experiences. In these supervised programs, instructors supply era-appropriate arms and guide customers through scenarios that re-create historic battles and common military campaigns.
By visiting Battlefield Vegas you're able to get hands-on with 100s of pieces of authentic military history. In Defending Stalingrad, for example, role-playing soldiers take aim with Mosin Nagant M91/30 rifles, Tokarev pistols, and PPsh-41 submachine guns. Beyond overseeing these scenario experiences and the training facilities, Battlefield Vegas's leadership plans to build a 32,000-square-foot outdoor [airsoft field], as well as a military museum.
Suggestions: before you show up at range review all pertinent information provided by Battlefield LV. Be safe. General information on this Youtube video.
Vegas Groupon Reviews
As of today, 9-5-2019, there are over 1300 verified reviews with an average of 4.9 stars on Las Vegas Groupon. Simply amazing. Read below.
Chad Peterson says,
"Went with a group for my 40th birthday party- what a great place to go Nice people great service. Everyone was great there. Can't wait to go back!"
Sarah H. says,
"Amazing!!! One of our favourite activities in Vegas! Roland made the experience safe and super fun! So thank you Roland! We both can't wait to come back next time we're in Vegas!"
Jack H. says,
"Incredible experience. Free pick up was a heap of fun and the shooting was well priced and taught so well. Thanks!"
Las Vegas TripAdvisor has awarded Battlefield LV with a certificate of Excellence in 2017.
Additional Info:
Confirmation is received at the time of booking
Not suggested for pregnant travelers
Minimum age is 18 years with valid photo ID
(702-566-1000) Call to be picked up in an authentic U.S. military HMMWV (Humvee) to pick you up at your Las Vegas Strip hotel.
You can schedule a pick-up via email or a group event email info@battlefieldvegas.com. All email bookings via must be requested at least 72 hours in advance of requested date.
Do you prefer a tamer Las Vegas adventure? If yes, then checkout the Vegas strip zipline at The Linq.
Please follow and like us: