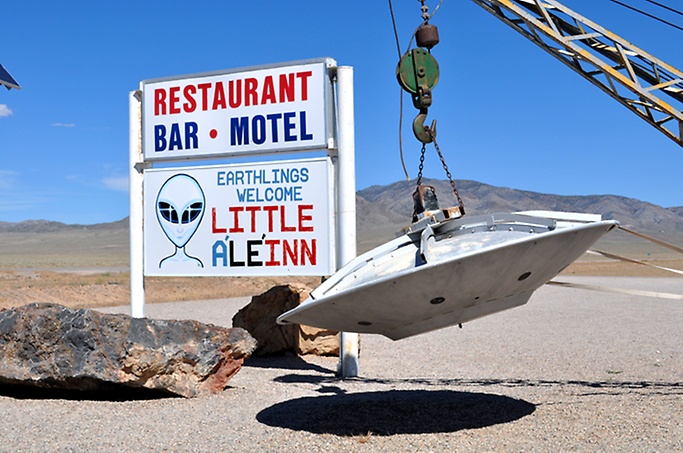 Area 51 Tours are awesome for experiencing the unexpected and amazing feel, visit the world's most top secret military facility on a full-day tour to Area 51 from Las Vegas. Discover the real home of the "X Files" with many more. BUY IT HERE.
Area 51 package The Things You'll Get:
Itinerary:
This is a typical itinerary for Area 51 Tours:
Stopping point: McCarran International Airport, 5757 Wayne Newton Blvd, Las Vegas, NV 89119, USA
This joyful day starts with a stop and viewing of the top-secret Janet Airlines, Which Doesn't exist! Based at Las Vegas International Airport, where the fleet of unmarked jets has been hiding in plain sight for decades. These Jets transports hundreds of workers daily to and from the infamous and supposedly closed and abandoned "Area 51".
Time Duration: 1 Hour
Stopping point: Extraterrestrial Highway, Nevada 375, Rachel, NV
The path to Area 51 tour is through some of the depopulated, uninhabited and unbelievably scenic deserts in the world. You will arrive on the edge of an ancient dry lake you can see very unusual 6′ tall Indian Petroglyphs that resemble Aliens, After a wonderful journey through a stunning Joshua Tree Forest. You will then explore this mystical dry lake where UFO sightings often occur. These are some of the most unusual petroglyphs in the world, seen in the hit TV show Ancient Aliens.
Time Duration: 15 minutes
Stopping point: Little A'Le'Inn, 9631 Old Mill Rd, Alamo, NV 89001, USA
After another wonderful drive along the "Extraterrestrial Highway," you'll arrive at the famous A'le'Inn. This place has been host to numerous documentaries and movies including "Independence Day". Here you will get a wealth of information and memorial on this top-secret area. An ex-air force Captain, Chuck Clark has written an amazingly interesting and in-depth report on Area 51, which is also available for purchase.
Time Duration: 1 hour 15 minutes
Stopping point: The Black Mailbox, Nevada State Route 375, Alamo, NV
After a very tasty Alien Burger at the Little A'le' Inn, you'll journey to the infamous Black Mailbox location, (which was recently abducted), a sacred meeting place for UFO enthusiasts.
Time Duration: 15 minutes
Stopping point: Area 51, Rachel, NV 89001
After that, you'll reach at the absolute perimeter of Area 51 through a strange and mutant Joshua Tree forest where the guards (The Men In Black) with their high powered arms, forever stand watch along with detection devices, listening devices, and cameras mounted among the cactus. You can be sure that, the signs read, "Top Secret Military Facility, Keep Out, Use of Deadly Force Authorized" and they mean it. You can wave at the heavily armed guards in the 4×4 parked on the desert hillside but they never wave back! They just wait and watch from behind their blacken windows.
United States government denied the existence of this base for decades, it's now known that it is there but no one knows what they do there. Area 51 tour is an Extreme experience to the world's most top-secret military facility, the real home of the X files, Area 51.
Time Duration: 45 minutes
About Area 51:
There are few tourist attractions which are based on Military zone and experience, Area 51 Air Force facility in Nevada is – mostly that kind of tourist attraction. Area 51 tour provides a unique experience to the tourist because of its top-secret appearance. For decades, the unknown Janet Airlines has been in the air moving workers to and from the base. At any time, you'll see more than 1,000 cars parked in their secret lot at McCarran Airport. Historically, the facility is known commonly (though not officially) as Area 51 was involved with building and testing experimental and classified military aircraft and weapons.
Nowadays, what goes on at Area 51 is also classified, but the site is at the epicenter of lots of conspiracy theories. Many people believe that UFOs and the aliens piloting them have been captured by the government and brought to Area 51 for research. This includes items thought to have been found in Roswell, New Mexico. Whatever you believe, an entire tourist industry focused on extraterrestrial life has grown up in the Area 51.
Area 51 Tours Reviews
Chad Peterson says,
"Went with a group for my 40th birthday party- what a great place to go Nice people great service. Everyone was great there. Can't wait to go back!"
Jennifer S. says,
"A great way to spend a morning in Vegas. Coach ride was very comfortable and the driver very nice (Bob). Once at the DAM, groups were taken down into the DAM. Again, the DAM tour guide was amazing and very professional."
John P. says,
"A great day out with our fantastic guide, Paul. Paul was very informative, interesting, and helpful. A very nice lunch was provided. The Valley of Fire was well worth the visit, with wonderful views. The museum visit at the end was very interesting. We were lucky enough to see mountain goats."
Area 51 Tours Additional Information
At the time of booking, Confirmation will be received.
Wheelchair is not accessible
Stroller accessible
Service animals allowed
Infant seats available
Not recommended for travelers with back problems
Not recommended for pregnant travelers
No heart problems or other serious medical conditions
Most of the travelers can participate
This tour/activity will have a maximum of 6 travelers
If you need help with Vegas air and hotel package, go here.
Please follow and like us: